Check out our Guitar Googalies,
our convenient (16"x16") size.
Cleans all musical instruments!
Reprint of feature article from the Graceful Bee website
By Linda Roberts

You know, once in a while a new product hits the market that is so innovative and soon becomes so essential that we wonder how we ever got along without it.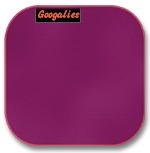 Googalies® is a revoluntionary new photo safe cleaning cloth that is fast becoming a fundamental tool in every scrapbooker's "must have" supply inventory! This 8" x 8" personal size cloth fits easily into any scrapper's supply tote or bag and it is washable! In fact, frequent washing is encouraged! Googalies® is a luxurious microsuede cloth that removes damaging fingerprints from your photos and absolutely will not scratch or leave lint! We no longer need to use a soft sweatshirt, our favorite flannel clothing, diapers, tissues, or paper towels. We all know how devastating a scratched photo can be, especially if we don't have a duplicate. Now that we've gone to the trouble and expense of using only acid free products to protect our photos for future generations, it only makes sense to wipe the oily fingerprints, which contains acid, off the photos once the page is complete!
The Andromedan Design Company has spent a considerable amount of time and resource to bring you Googalies®. In our quest for superior materials and workmanship, we have worked with many dozens of manufacturers of microfiber products around the world. We have seen just about everything that the microfiber world has to offer. Googalies® are the softest, most luxurious, and most effective cleaning cloths ever to touch your precious photos. These amazing microfiber suede cloths, made of polyester and nylon, will not scratch, shred, or leave lint as they clean. Several years of research and testing by Andromedan of hundreds microfiber of combinations has resulted in absolutely the best blend of fibers for cleaning. Googalies® are manufactured to our exacting specifications using our own unique microfiber combinations.
Removes Fingerprints and Smudges
Our photos are precious and the point is to preserve the memories for generations to come. Keeping your photos clean is as important as using acid free products! Also, keeping your photos fingerprint and smudge free gives your pages visual clarity. Hand oils and moisture can nurture fungus spores and, in conjunction with humidity, will cause molds to grow. Once your layout is complete, use your Googalies® to wipe away fingerprints and smudges from each photo on the page! Put on your page protector and then wipe both sides with your Googalies®.
Cleans Page Protectors
A Googalies® cloth will remove dust and fingerprints from your page protector. Having our pictures physically protected is especially important because we can let children, grandchildren, and others enjoy our albums without worrying that the photos will be damaged. And if your dry Googalies® doesn't clean the protector, try a slightly damp Googalies®. You may lightly dampen a small portion of your Googalies® and then, after cleaning with the damp portion of the cloth, use the dry portion of the cloth to wipe the page protector before placing it over your page. It will be as good as new! It is extremely important to cover your photographs as dust can scratch the film emulsion.
Camera Lenses & Eyewear
Googalies® will keep your camera and lenses clean! Googalies® are safe for all fine opticals! Professional photographers find that Googalies® clean far better and last far longer than the typical packaged lens cleaning cloths. Keep an extra Googalies® handy to clean your eyeglasses while scrapping! Just fog your glasses and clean - you'll be amazed at how much better you can see!
Tips & Tricks
TIP: Googalies® are perfect for removing grease pencil marks from you photos when using templates. Also, use your Googalies® to clean the templates themselves (easily wipes off grease pencil residue), border rulers, scissors, and other accessories. I like to use two Googalies® - one for the grease pencil, and the other for finishing touches.

Be sure to visit the Steps & Tips page where we provide a step by step guide to using your grease pencils. We also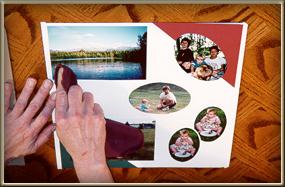 share some terrific tips and ideas gleaned from our own experiences. And remember, we are always open to new tips and ideas from our fellow scrappers! Once your layout is complete, always use your Googalies® to wipe away fingerprints and smudges from each photo on the page!
Photo Labeling TIP: Grease or wax pencils (also known as Stabilo art pencils) are chemically safe and soft enough that they will not cause physical damage to your photos. Use one of these pencils to label the backs of your pictures with names, dates and other pertinent information. Graphite pencils are chemically stable, however, hard lead can cause indentations in the photograph, and soft lead can smear. Do not use ballpoint pens - the ink is highly acidic. In some cases, the ink will "eat" through to the front of the picture. Writing with a ballpoint pen can also make indentations in the picture. Do not use "felt-tip" pens - the ink is acidic and does not dry well. If photos are stacked, the ink can transfer to the front of an adjacent photo and damage it.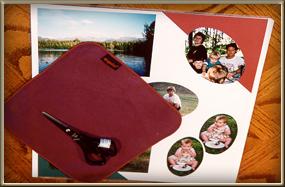 Clean, Acid-Free, and Safe for Generations to Come
---
You may check our Store Listings section to see if a local store in your area is carrying Googalies®. If you would like to place an order online, you may click the Order button and it will take you to our secure server. All prices on our shopping cart include shipping. After your order is submitted, an order confirmation will be sent to the email address you provide. We ship everyday except Sunday and federal holidays. Most orders ship within 24 hours.

Don't forget that Googalies® are packaged small enough to be great stocking stuffers and they make very practical and much appreciated gifts for your favorite cropping buddies!

Our normal business hours are from 10:00 am until 6:00 pm (Pacific Standard Time), Monday through Friday. You may contact us via email at info@googalies.com, or by telephone 541-488-8325. After business hours, voice mail is available so don't hesitate to leave a message.